One of my favorite days of the month is always the day my Stitch Fix arrives. Whether I keep everything or not, it's always a lot of fun to try on clothes that were chosen just for me. My March Stitch Fix was especially fun for me. The snow is melted and spring is in the air here, so I was good and ready to try on the spring transitional styles my stylist sent me. I wasn't disappointed!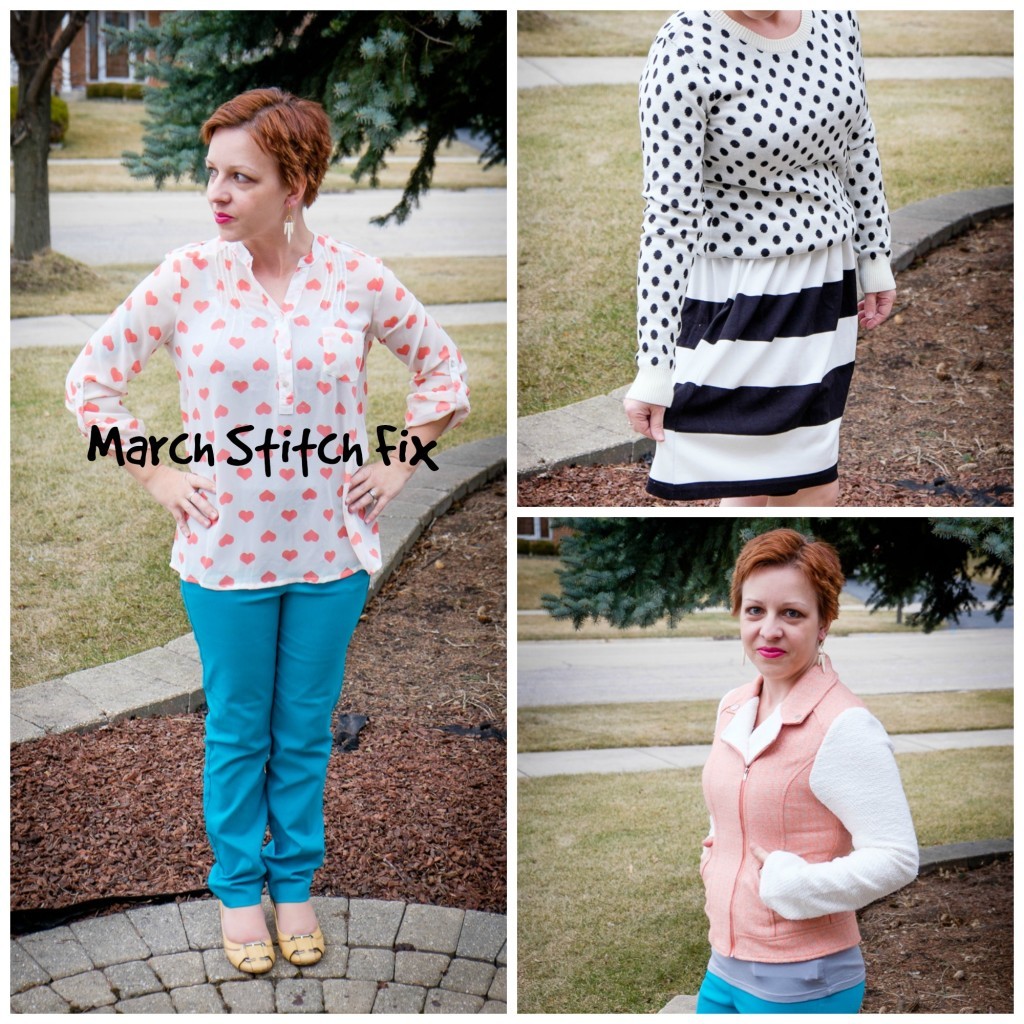 This fix screamed spring to me. The first thing I saw when I opened my box was this awesome pair of Emer Cropped Straight Leg Pants. I LOVE the color. They were so comfortable on, too. But, they were too long for me. I'm 5'2″, so I'm pretty solidly in petite sizes. I've gotten plenty of pants from Stitch Fix that have worked in the past, but as much as I loved the color, I decided not to keep them. To be honest, I probably would have if Stitch Fix hadn't just released petite sizes. My fix was on its way when they were released, but I have already updated my profile to indicate that I would prefer petites. In fact, after I saw the announcement, they even sent me an email since the height in my profile indicated I would wear petites. I am so excited for petite sizes. If you're like me, it gets frustrating to find great pants that could work other than the length and I love that Stitch Fix is acknowledging the many of us who are on the short side.
The top I'm wearing is the Isaac Split Neck Blouse. It's a fun blouse, but didn't really feel like me. It was sheer, so I would always have to wear something underneath, too. I decided to send it back.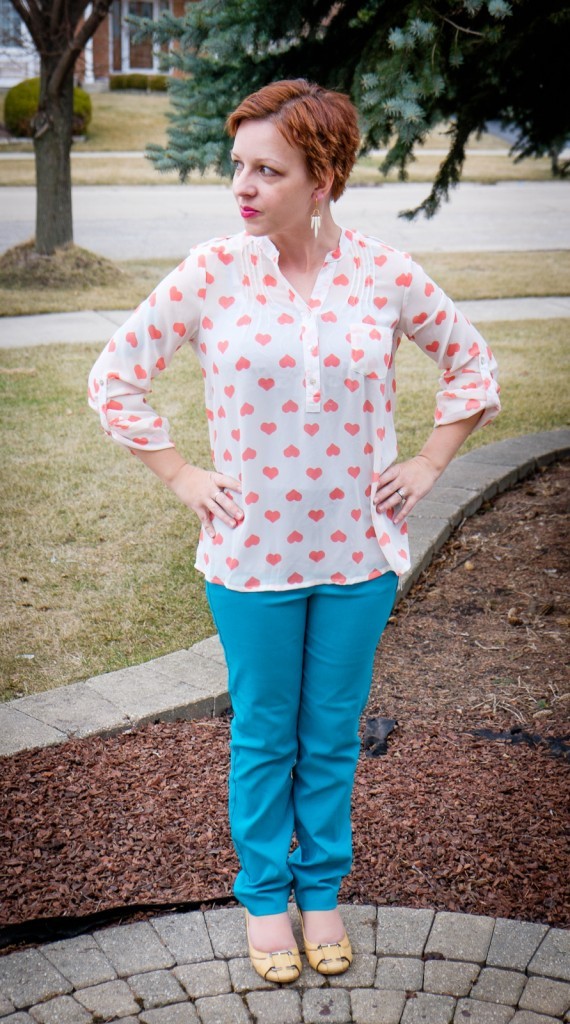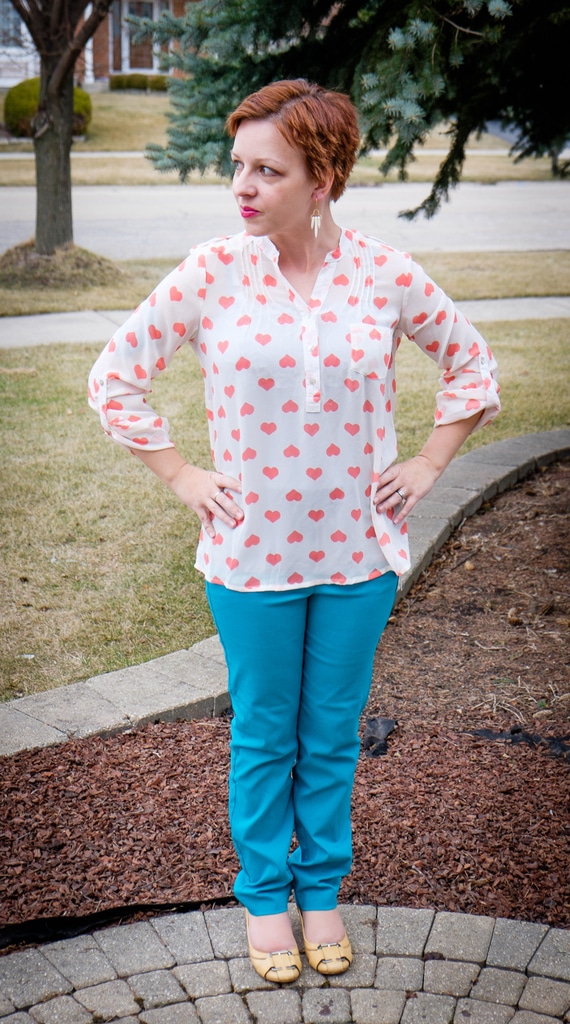 I saw the Hadley Moto Jacket on Stitch Fix's Instagram account and requested it. It's such a great color and the perfect weight for transitional seasons. I loved how comfortable it was and can see myself wearing this as my go-to jacket this spring. I decided very quickly to hold onto it.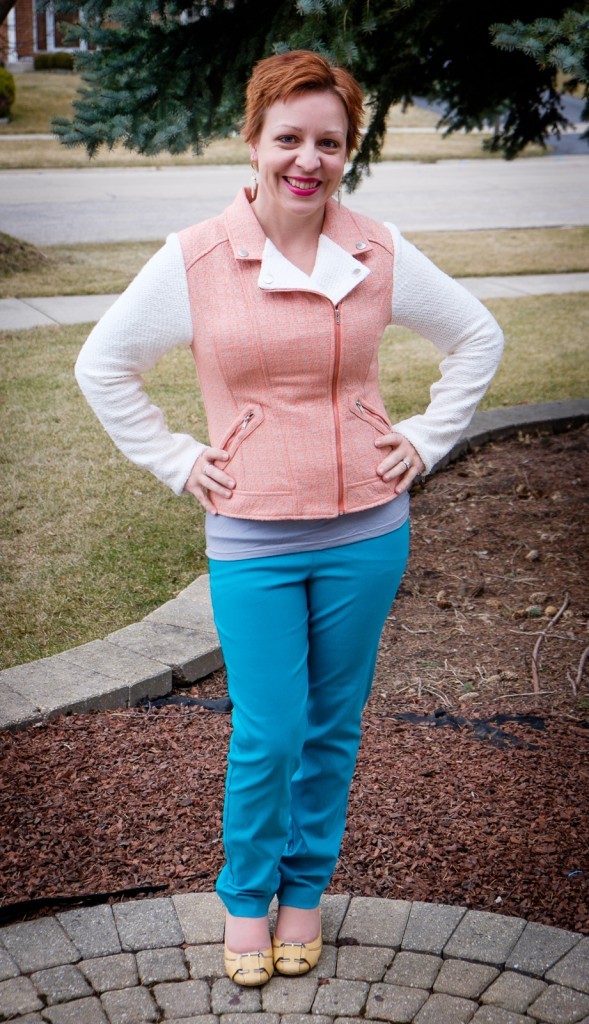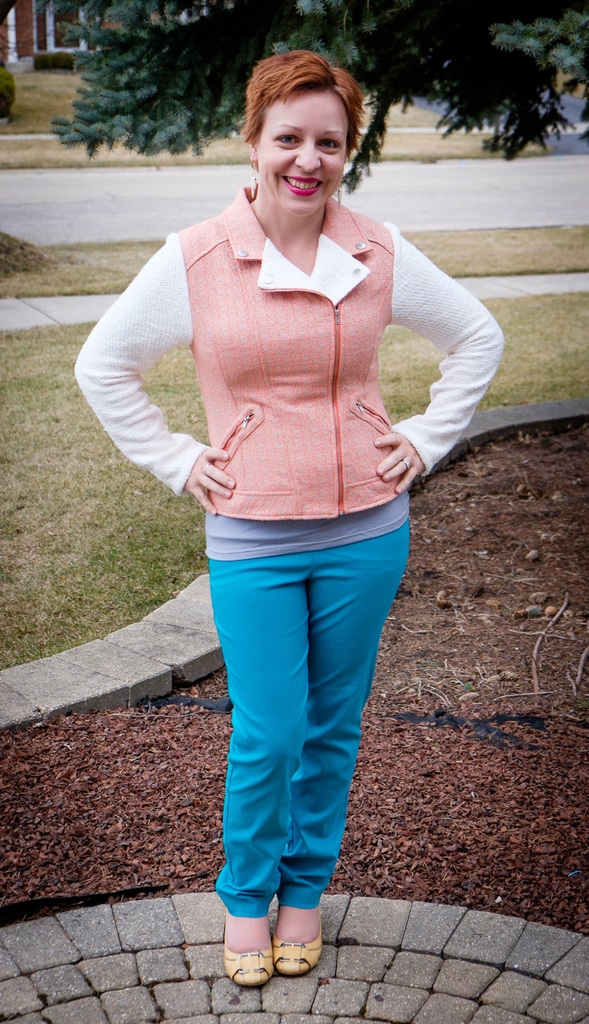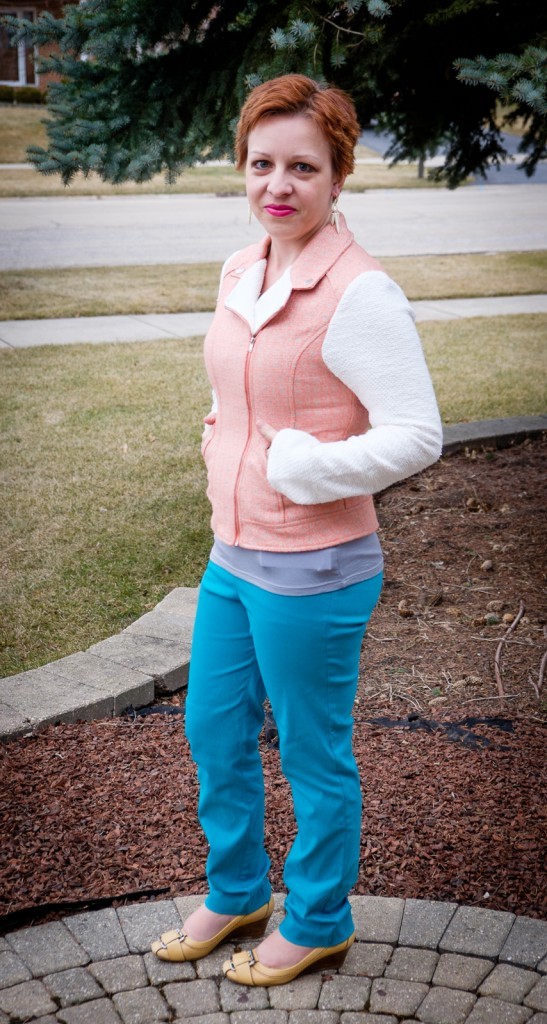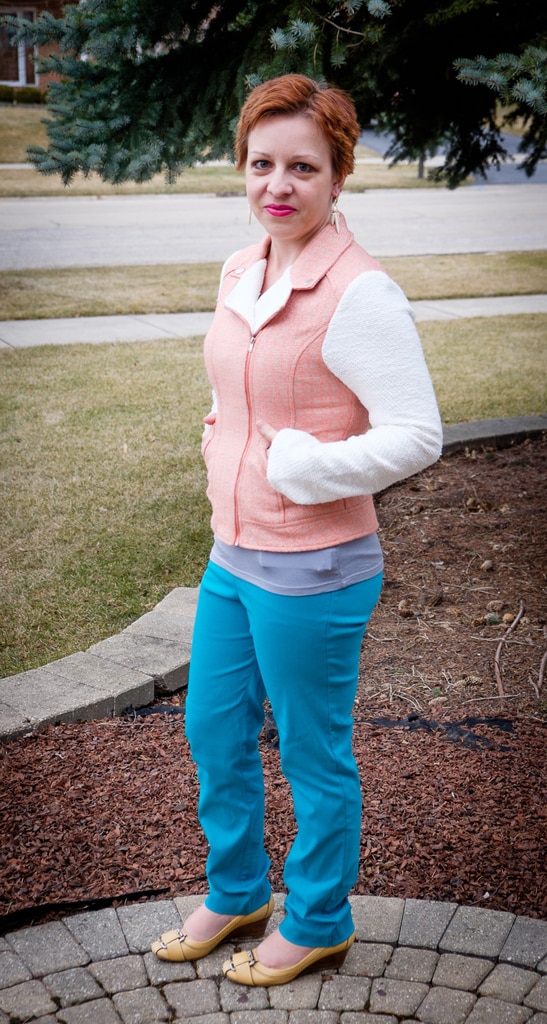 So, pretty much everyone knows that I'm perpetually cold. My poor stylist is probably so confused because I constantly ask for warmer clothes. The Gideon Polka Dot Sweater is really pretty and has the neat feature of being reversible. But, I have that taste of warmer weather now and while I liked the sweater, I didn't want to get it at this point in the year. If I had received it in the fall, I would have kept it in a heartbeat.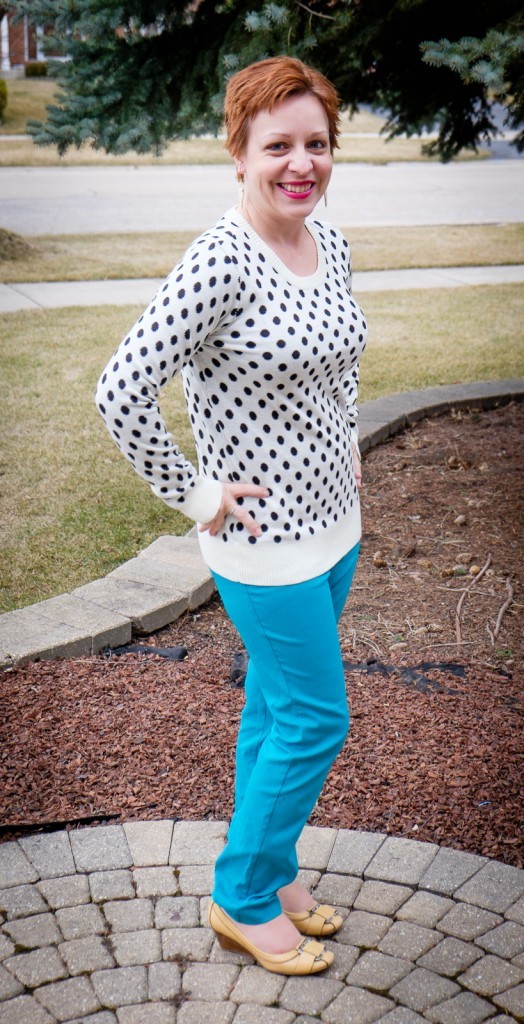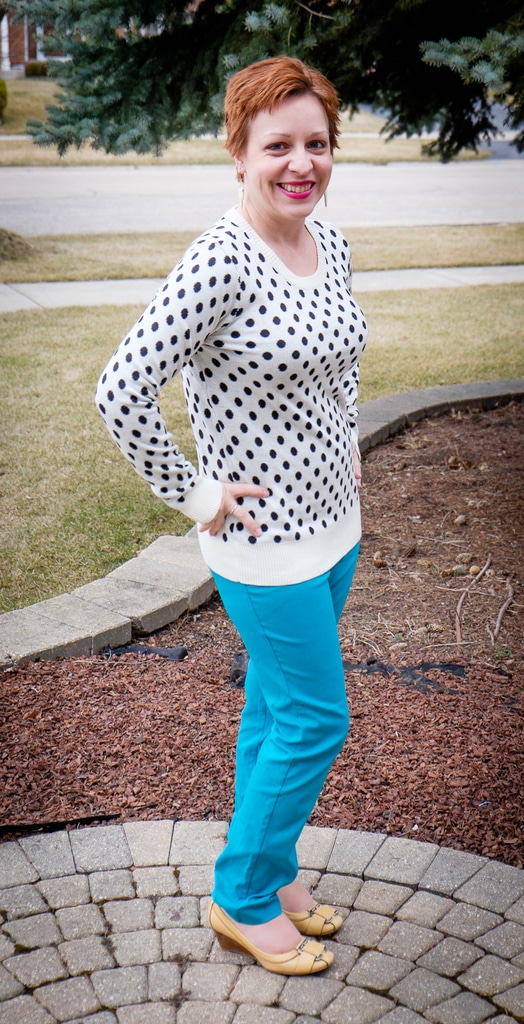 The final item in my fix was the Leah Skirt. I had requested a different skirt, but it wasn't in stock, so my stylist sent me this one to try. I loved the stripes. I loved the weight and length, and especially that it was lined. I am a huge skirt wearer in the summer and can see how easy this one will be to dress up or down. It's another keeper for me! (Side note–I tried rolling up the sweater so that the skirt could be seen more. Bad idea. It really is a fantastic skirt and this picture doesn't do it justice. You'll be seeing it a lot more!)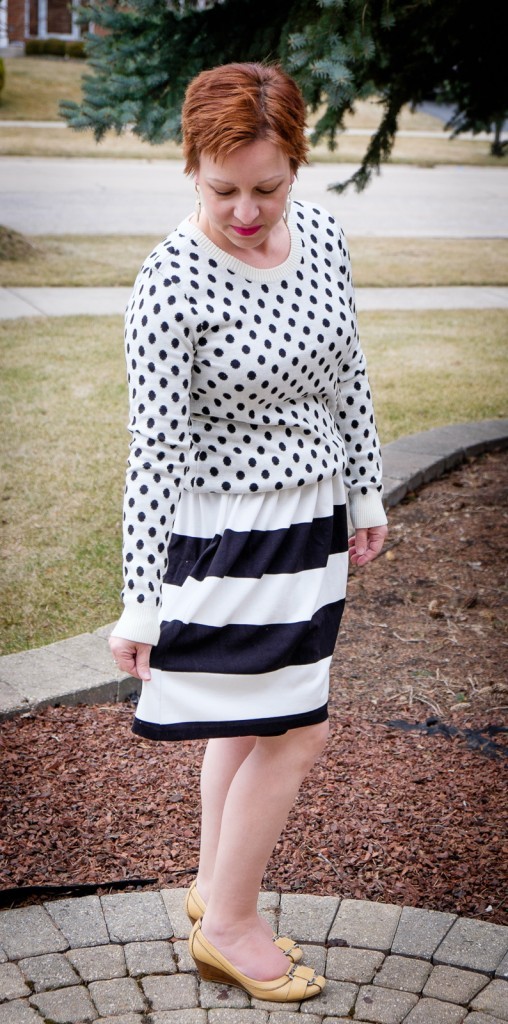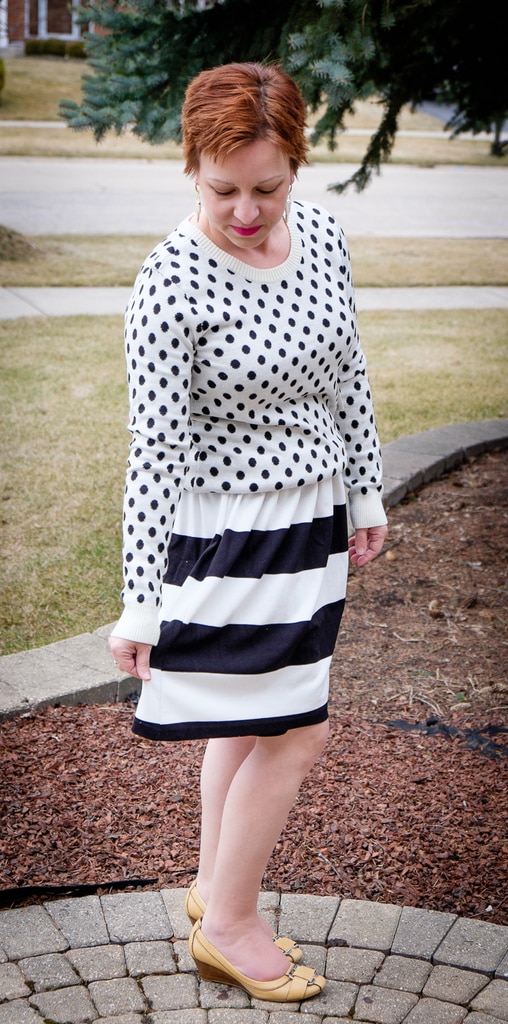 I enjoyed trying on every piece that was sent to me and I love and appreciate how much work my stylist puts into each fix. I'm really looking forward to seeing some petite sizes arrive. I would be willing to bet that it will change those pieces that I debate but send back into a no questions asked buy.
If you would like to try Stitch Fix, I would really appreciate it if you used my link! Not only do their stylists really work with you, but they're now offering petite *and* maternity sizes! I wore Stitch Fix all through my last pregnancy and they were great with finding me pieces that would work with my bump, but I have to admit that I'm kinda jealous that I don't get to experience the full on maternity styling.